Atari Music Network | Chiptune & MIDI Music
It is currently Fri Jun 05, 2020 8:51 pm
by yerzmyey » Fri Apr 30, 2010 2:30 pm
Hi there.
Atari is good for MIDI purposes or for synthetic music making (chiptunes). Yes. But who said that only PC is good for making digital compositions???
I will put into this sub-forum several threads about editors of digital music for some 16/32-bit Atari machines.
This time - pure ST.
Of course at least 1Mb of RAM would be nice. Really.
Then You can make good music with it. Although 4Mb will not kill ya.
Originally Atari ST (also STf, STfm, ST+, in 520 and 1040 versions) have only a Yamaha soundchip built-in (YM). It's a 4-bit quality chip with 3 hardware channels theoretically designed only for synthetic music.
Luckily for us - Atari ST has pretty fast CPU (8Mhz) so finally we get full 4 channels (with independent volumes) and higher quality of digital sound.
There are plenty of digital editors for pure ST, however I found two of them really useful.
ProTracker ST
http://files.dhs.nu/files_msx/protk21r.zip
(The archive includes also a version for Atari STe but about it - later, in another subject).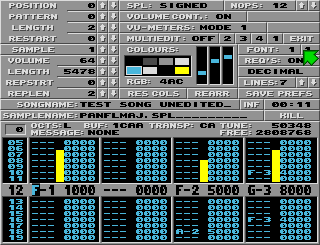 It works with FDD but also it works instantly with HDD and CF/SD cards which is cool.
It can play 4-channels digital music with two alternative qualities:
- 12 228 Hz (this quality is not great but if You have only 1Mb of RAM and wanna make any bigger song - You will have to use the quality to play the song at all).
- 16 384 Hz (that's really nice quality for making digital music on our ST, especially if You keep filled up all the tracks, because then it sounds much better - noises coming from sound-quality are LESS audible).
You have to remember that ProTracker ST doesn't read 'tremolo' command, so if You wanna use the effect, You simply have to set up twice faster tempo to achieve the tremolo if required.
The editor contains SAMPLER corner and You can prepare Your own samples using any sampler-interface for ST. Supposedly like this one:
http://yerzmyey.republika.pl/atari_st_sampler.jpg
The second prog is DigiComposer.
http://files.dhs.nu/files_msx/digicomp.zip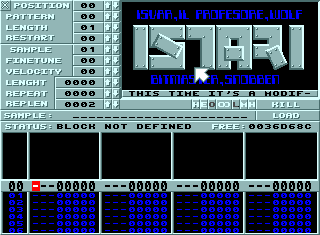 Also 4-channels of digital sound. Sadly works rather only with FDD. It gets crash while work with HDD somehow.
There's some confusing PREFERENCES corner but when set up properly - it sounds better than ProTracker ST.
In my opinion it is generally better than PT ST but seems like DigiComposer doesn't read "jump to pattern" command.
Both use MOD format.
If You're interested how does sound the pure ST 1Mb + YM then listen to this:
http://www.youtube.com/watch?v=-I6ZIu9rv1E
(Taken from Atari STfm 520 1Mb and DigiComposer).
As for me the sound quality is really OK for Yamaha and for the additional channel from software-mixing.
Hence - it is worth to make also digital music on Atari ST.
Last edited by
yerzmyey
on Thu Nov 22, 2012 10:29 am, edited 1 time in total.
Posts: 157
Joined: Tue Apr 13, 2010 1:50 pm
---
by yerzmyey » Sun Oct 10, 2010 2:43 pm
Posts: 157
Joined: Tue Apr 13, 2010 1:50 pm
---
by yerzmyey » Tue Jun 21, 2011 10:41 pm
Did You know that regular Atari ST (even with 512Kb but 1Mb and more is better) - can now play digital music with...
SIXTEEN CHANNELS?!!?!?!?!
http://atari-forum.com/viewtopic.php?f=28&t=20760
Image:
http://yerzmyey.republika.pl/HexTrack_demo.png
Example (8 channels, from my previous STe song - now working on plain ST) -
_____________________
8 (EIGHT!) channels MOD in 16,6 kHz quality from YM chip!!!!
Recorded from real hardware.
NO POSTPRODUCTION!
http://yerzmyey.i-demo.pl/Yerzmyey-OCTO ... UCTION.mp3
_____________________
Greetings,
Y
Posts: 157
Joined: Tue Apr 13, 2010 1:50 pm
---
by yerzmyey » Tue Jan 29, 2013 11:19 am
Hi,
maybe somebody might find it useful (making MODs on ST and STe),
We were bored with using FDD.
http://yerzmyey.republika.pl/digicomp_hdd.rar
Depack all files into
C:/DIGICOMP
This will be Yours work-catalogue.
Yerz
Mono
Suggestions: 505
Posts: 157
Joined: Tue Apr 13, 2010 1:50 pm
---
by yerzmyey » Sun Feb 03, 2013 10:11 pm
Posts: 157
Joined: Tue Apr 13, 2010 1:50 pm
---
by yerzmyey » Wed Oct 02, 2013 9:32 am
My new fully digital song from ATARI 520ST (req. 2Mb) -
http://ym-digital.i-demo.pl/Yerzmyey-Co ... k_2013.zip
A cover of "DRACONUS" game music from Atari Xl/XE.
Posts: 157
Joined: Tue Apr 13, 2010 1:50 pm
---
by NCGM » Fri Oct 25, 2013 12:32 pm
Just read this whole topic again from the start....great stuff!
Posts: 180
Joined: Wed Apr 07, 2010 12:02 pm
Location: Bradford, U.K.
---
---
Who is online
Users browsing this forum: No registered users and 0 guests